We're here for you and your business.
We're family-owned. We buy North American. We're ISO 14001 registered. But, most of all, we're a team dedicated entirely to making you look good.
Exclusive Preferred Pricing
Take advantage of exclusive discounts on catalogue pricing, firm pricing benefits on regularly purchased products, and a dedicated purchasing and procurement team to find you the right products at the best price.
Delivery On Your Schedule
Experience the benefits of no-minimum, next day delivery, for free. Our dedicated delivery team ensures you get the products you need to succeed. With Desktop Delivery, you know the products you ordered will get to the people and departments that depend on them.
Concierge Account Service
With more than 160 years of experience, our service-driven culture is second to none. Your account is managed by someone who understands the unique needs of your business, supported by a dedicated team, obsessed with your success.
Exclusive Preferred Pricing on office supplies

Exclusive pricing on printing essentials like paper & toner

10% discount on eligible printing and marketing/promotional products

Save up to 20% on Basics Brand products

Negotiated firm pricing on your regularly purchased products
No minimum purchase required

Free business-day delivery, excluding evenings & weekends

Next Business day delivery

Desktop Delivery to get your products where they need to go

We ship to multiple locations
No signature required & touchless delivery
No-fee account management

Dedicated account manager committed to your business success
Professional advice from our complete team of specialists for all your business needs
Personal login on our webstore lets you manage your purchases
Second-to-none product support backed by our service & technical team
It's more than just office supplies.
Your dedicated account manager can help with more than just pens and paper. Whether it's a new office design, upgraded furniture, a fully managed print services program, or copy and promotional printing, we have you covered.
Complete managed print services.
Who wants to deal with printers? Actually, we do. From document management to security, mobile access to print workflows, Beatties will work behind the scenes to save you money and headaches.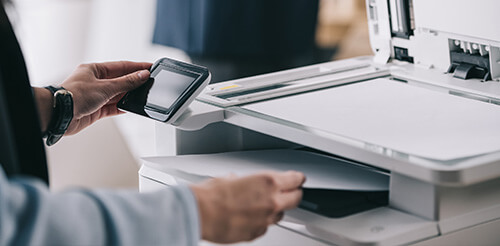 We speak office furniture.
Beatties is your office furniture project partner. We specialize in helping organizations of all sizes make their redesign and renovation projects a giant success.
Copy and print. From start to finish.
Our expert copy and print shop associates will complete your project for you. We print brochures, flyers, presentations, right up to posters and banners. Single copies or thousands!
Be your best with the best in business