How To Maintain Efficiency While Working From Home
As global health concerns around the COVID-19 pandemic continue to disrupt the way we live, interact, and work, many people have found themselves in uncharted territory. We know that many people are facing hard times and uncertainty, especially when it comes to employment and the economy more generally. For those of us still lucky enough to be employed, a new set of challenges has likely arisen: how do we maintain efficiency, focus, and wellness while working from home. For many, this #wfh life is entirely new. From connecting with teams, staying focused, and staying healthy, there are many challenges. In this blog, we look at all the ways that the right work from home set up can help you maintain efficiency as you work from home.
How can the right work from home set-up help with efficiency?
We define efficiency as the amount of work performed compared to effort or energy spent. In the office, or "at work," (a phrase we suspect will become increasingly flexible in the future), your processes, schedule, and routine were likely created to help increase or maintain a certain level of efficiency. Start your day at a set time, kick-off your tasks with a team meeting at a scheduled time. Eat lunch every day at the same time. Do you get the pattern?
Distractions were also likely limited to allow you to concentrate on your work. The kids were at school, and pets were sleeping at home, waiting for you to return. Spouses were likely busy at work as well. Now, everything has changed.
Maintaining efficiency while working from home is hard, but with the right set up and some simple hacks, you can make it a lot easier for yourself and those around you.
Tips for maintaining efficiency
1. Keep to established routines
Luckily with entire organizations working from home, keeping established routines is a little easier as it's likely working schedules have stayed mostly the same. One of the biggest challenges is remembering to take small breaks, especially to get up and stretch, drink water, and eat a proper lunch! Although it may sound counterintuitive, research has shown that short breaks can help you avoid burnout.
2. Keep your work station organized
Having an organized work station can help improve efficiency. While you may be working from a dining room table or makeshift home office right now, keeping your work station (however you define it) neat and tidy can help keep you on track. Having a tidy workspace is especially important if you work with specific tools like calculators, or need essential files in your day-to-day. It's also helpful to maintain a neat working environment for those important video calls.
Are you looking to step up your work from home workspace? Check out our organizational solutions here.
Keep in mind, this isn't limited to your physical space, but applies to your "digital" workspace as well. It's easy to end the day with 500 tabs open on your browser, but make a habit of closing tabs and windows you don't need. You can always go back to them.
3. Re-create your office working environment
We, humans, are fundamentally creatures of habit. While this is true with routines, it also plays an essential role in explaining how our physical surroundings affect us (hence why the office has, for so long, been such an essential part of working life). To help you get in the working mindset and help maintain efficiency, consider re-creating your office working environment.
It doesn't need to be as complicated as bean bag chairs, elaborate coffee makers, or hiring a front-office receptionist for your home. If you've got two screens at the office, invest in another screen for your set up at home. If you've got a pencil holder, document organizer, or desk plant in the office, attempt to re-create these features at home and trick your brain into thinking it's at the office. You'll be surprised how useful these little things can be in helping you maintain some semblance of habit. You may even come to appreciate how much you missed the annoyance of knocking over your pencil holder every day.
Create a dedicated workspace
Following on with the idea about maintaining a routine, Interior Marketing Group Founder and CEO Cheryl Eisen says, "To create a workspace that is conducive to productivity, establish a designated room or space. If you don't have a home office, this can be a desk or table. Try to choose a space away from the TV or the fridge to avoid distractions and mindless snacking."
While you might not have a dedicated room or space in your home or apartment, desk partitions and privacy screens are a great way to create a dedicated working space.
How to create a great work from home set-up
We've put together a quick list of must-haves to help you create the best set-up to maintain efficiency as you work from home. From lighting to desk chairs, standing desks and office plants, we're making it easy to help you be your best as you work from home.
The Kitchen Table Set-Up
If you don't have a dedicated home office with a proper desk, don't worry. Setting up a work from home station can be done right from your kitchen table.
What you'll need:
A table
While the ideal work surface height is dependent on your height, you should be able to maintain a forearm-to-upper arm angle between 70 degrees and 135 degrees. If your table is too tall or too short to help you support this working position, there are a few options. If your table is too tall, you'll probably need to invest in an adjustable chair. If your table is too short, try sneaking some heavy books or bricks under the legs to give you some more height.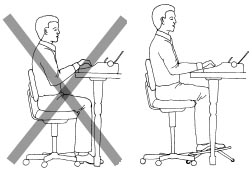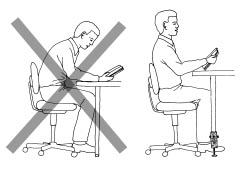 A good chair
Having the proper chair can make a huge difference in your work station set-up. A good office chair should provide proper lower back and lumbar support, multiple adjustable height options, a swivel base to help you move naturally, and should be made of fabric to keep you comfortable and temperature controlled.
If you don't have the option of a new ergonomic chair, take regular breaks to stand up. Josh Bancic, ergonomics master from Humanscale Office Furniture says, "Simple things like setting a reminder in your calendar on repeat so you have a visual reminder every 30-40 minutes is helpful. Using an alarm on your phone or a wearable technology device can also be helpful to act as a reminder to stand up and move."
Desk & table organizers
Help keep your workstation clutter-free by investing in some organization products. Paper trays, pen & pencil holders and other organizational products can really help keep things neat and tidy. Plus they'll allow you to quickly and easily get your workstation transformed to an eating station at dinner time.
A good desk lamp and good lighting
Having the right lighting is super important, especially when working at a computer. A desk lamp can help reduce the strain on your eyes when looking at a computer screen and soften the effects of harsh light on your eyes.
Choose a soft or daylight bulb. These types of light bulbs can help reduce the intense glare from a computer screen and save your eyes.
Make sure you are aware of the light coming in from windows. If you're directly in front or directly behind a window, this can create more glare and damage your eyes. Try to position yourself parallel to the light coming through the windows.
Get some house plants
A small house plant can help to round out your workstation. House plants help filter air, are nice to look at, and give you an excuse to get up and take a quick break as you water and care for your plant. They can also provide some cover and privacy as you try to maintain a dedicated workspace.
While work from home presents us with new challenges, having the right set-up can help you stay motivated and maintain efficiency.