After somehow squeezing 30 years of growth into their small harbour front offices in Hamilton, McKeil Marine was ready to make a splash at a new head office in Burlington. The beautiful, professionally designed open concept space honours the company's past, celebrates its present and looks to its future-and Beatties was there to ensure the office furniture was more than ship-shape.
SCOPE:
Collaborated on the design and provided all the office furniture for a new 16,000 square foot head office, including open concept work area, 40 workstations, lunchroom, main filing area, board room, two meeting rooms and 12 private offices.
TIMELINE:
12 months from sign-off to move-in
McKeil Marine may have been moving its offices away from the waterfront, but it was still a marine transportation company and it didn't want to lose its sea legs. That's why the CEO's vision was to create a new head office that felt like a vessel floating on the water.
The timing was strategic. The company was celebrating 60 years in business, had just rebranded, and was transitioning to new ownership-the perfect time for a project that would both honour the company's exciting past and look forward to a bright future.
It was a team effort. Kathy McKeil co-lead the project with McKeil Marine's VP of HR. An architectural firm planned the space. An interior design consultant advised on the colour palette, finishes, custom furniture and art installations. Beatties was chosen to handle the office furniture, providing design advice, product recommendations and installation services.
"We knew we wanted a one-floor, open concept space that would be conducive to collaborating and connecting," Kathy says. "We needed lots of room for filing, and we designed the massive filing cabinets to anchor the space. Then we gave them custom tops so McKeil crew could easily gather around vessel drawings."
Another priority was the lunch room, which is affectionately known as as "the galley." "We have a culture of caring, and food is very important to that," Kathy says. "The galley is a bright, colourful space where people can gather and connect."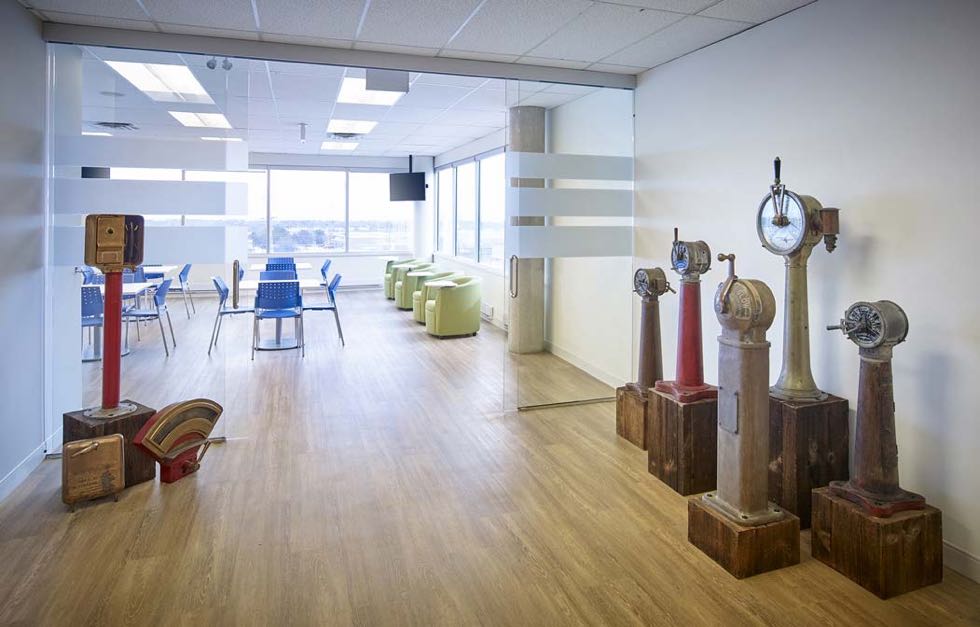 Salvaged pieces from McKeil's fleet were integrated into the design. Ships' wheels became art in the main board room. Life preservers were repurposed as frames for bathroom mirrors. Telegraphs became art installations. "We wanted to marry the history with the beautiful contemporary furnishings," Kathy says. "When the sailing crew saw it for the first time, it felt comforting to them. They felt like they were at home!"
Beatties introduced Kathy to the unparalleled look and quality of Teknion's office furniture. "I was blown away by the design and technology and efficiency of their furnishings. I knew it would speak to the company's future-but it can be expensive," Kathy admitted. "We chose our Teknion pieces strategically, and Beatties helped us find more economical alternatives where they would work."
To save money, McKeil ordered task chairs from another vendor, which they assembled themselves. "We should've listened to Beatties, because they weren't the quality we were looking for. Beatties bought the chairs off us-even though we didn't purchase them through Beatties-and quickly ordered the chairs they'd initially recommended. It made our mistake palatable! The whole process with Beatties was seamless, from design to installation and even afterwards."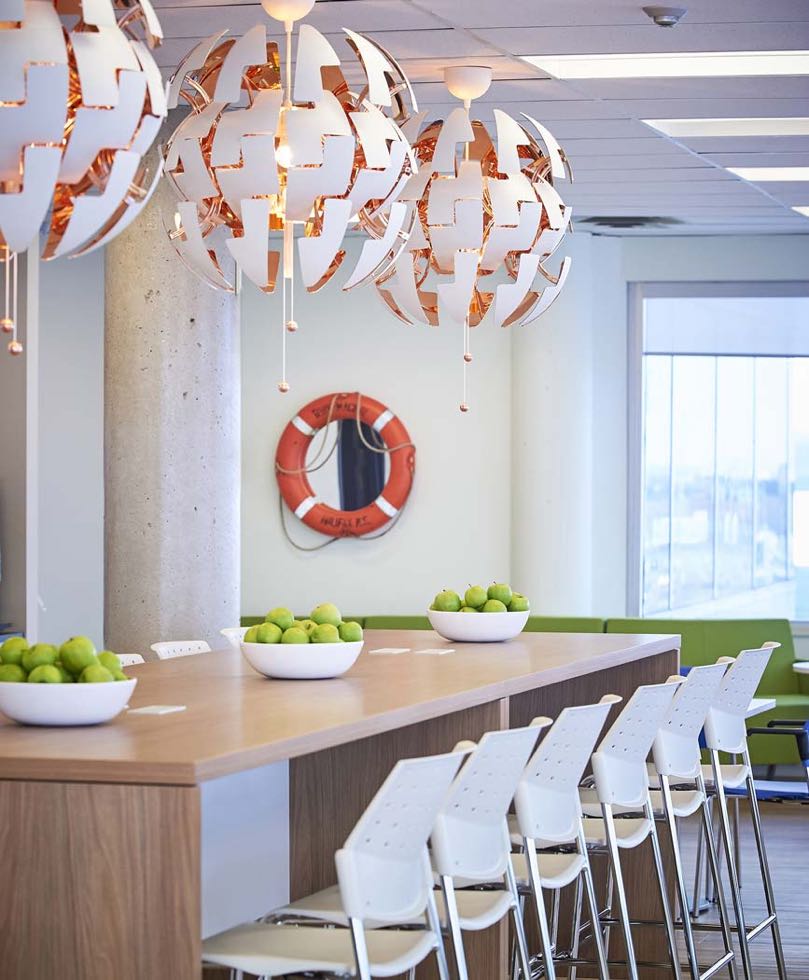 "If you want a professional, skilled company to help you realize your vision for an office space, Beatties is the best. In addition to their ability to understand the project, share their expertise and deliver great outcomes, their pricing is fair and reasonable. "
- KATHY McKEIL, PROJECT CO-LEAD
Kathy's advice for others considering a similar office design project is to keep the vision for the space at the forefront of every decision. "Every time we met with the team we'd ask, 'Will this deliver on the vision?' If it didn't, we rethought our approach-even down to the colour of the desks, which we wanted to seem to float on the carpet. I think that's why the end result is so incredible."
"Building tenants have asked to come and see the space and they can't believe it. It's very unique, and accurately reflects the business we're in."
- KATHY McKEIL, PROJECT CO-LEAD