Everything you need to protect your employees and those you serve.
Returning to work after a global health crisis can be nerve wracking. Put your employees and customers at ease with this selection of protective barriers. Together, we can all make this transition back into our daily routines easier and safer.
Products which create division + social distancing
Quick-ship + easy assembly home office packages
Materials - easy to clean, bleach cleanable non porous hard surfaces, antimicrobial and antibacterial
Anti-bacterial technology integrated into products and materials: Silver ion, UV/Blue Light,Nanotechnology, Copper infused
Sanitation products integrated into all work settings
Agile furniture for flexibility in the open plan in conference and meeting rooms
Leasing vs buying furniture
Hands-free adjustment features
Benching workstations
Open workstations with no screens
High density meeting rooms + spaces
Soft + porous materials
Products with a lot of seams or metal folds
High contact unassigned spaces
Shared storage and unassigned lockers
Personal belongings and bags set on floor
IMPROVING YOUR OFFICE & WORKSTATIONS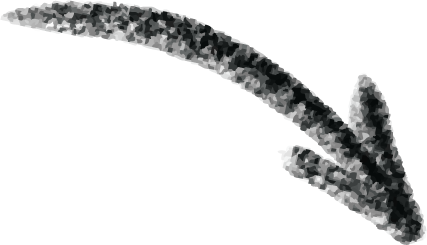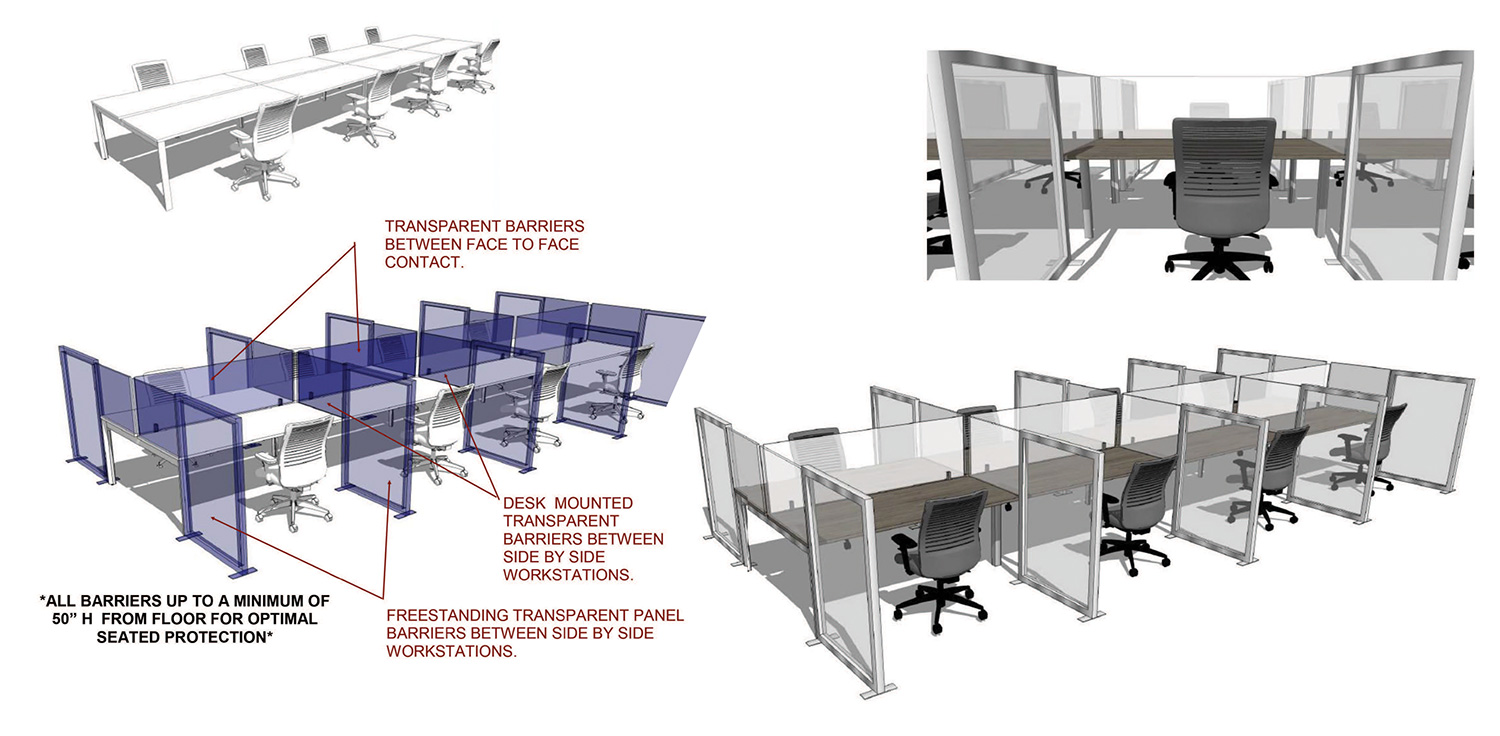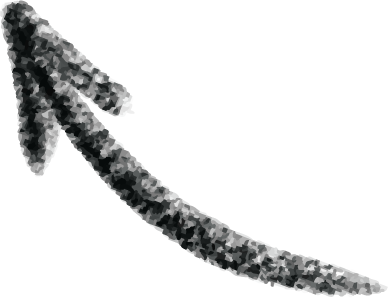 Choose which layout closely resembles your current workstations to see improvement ideas: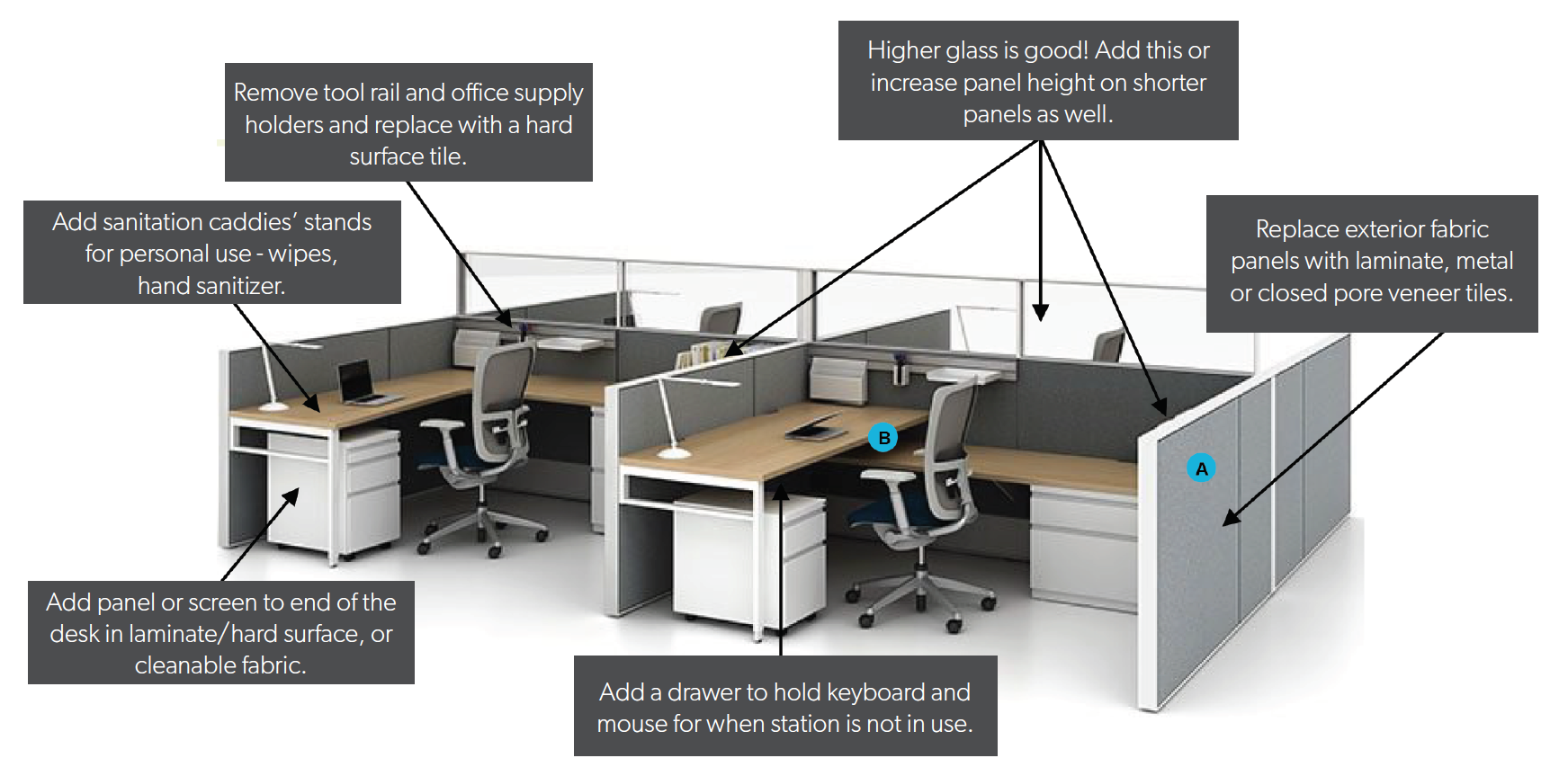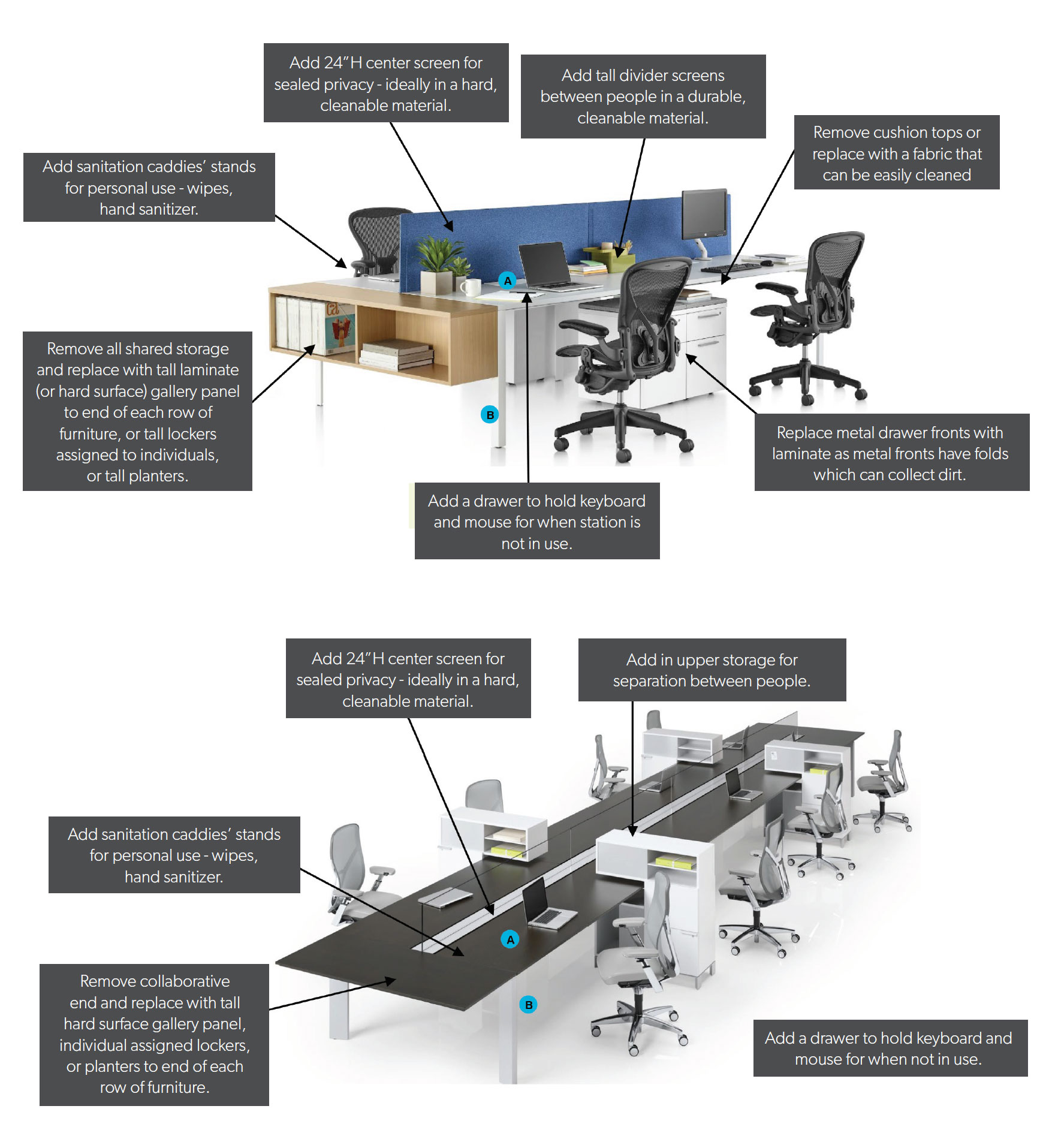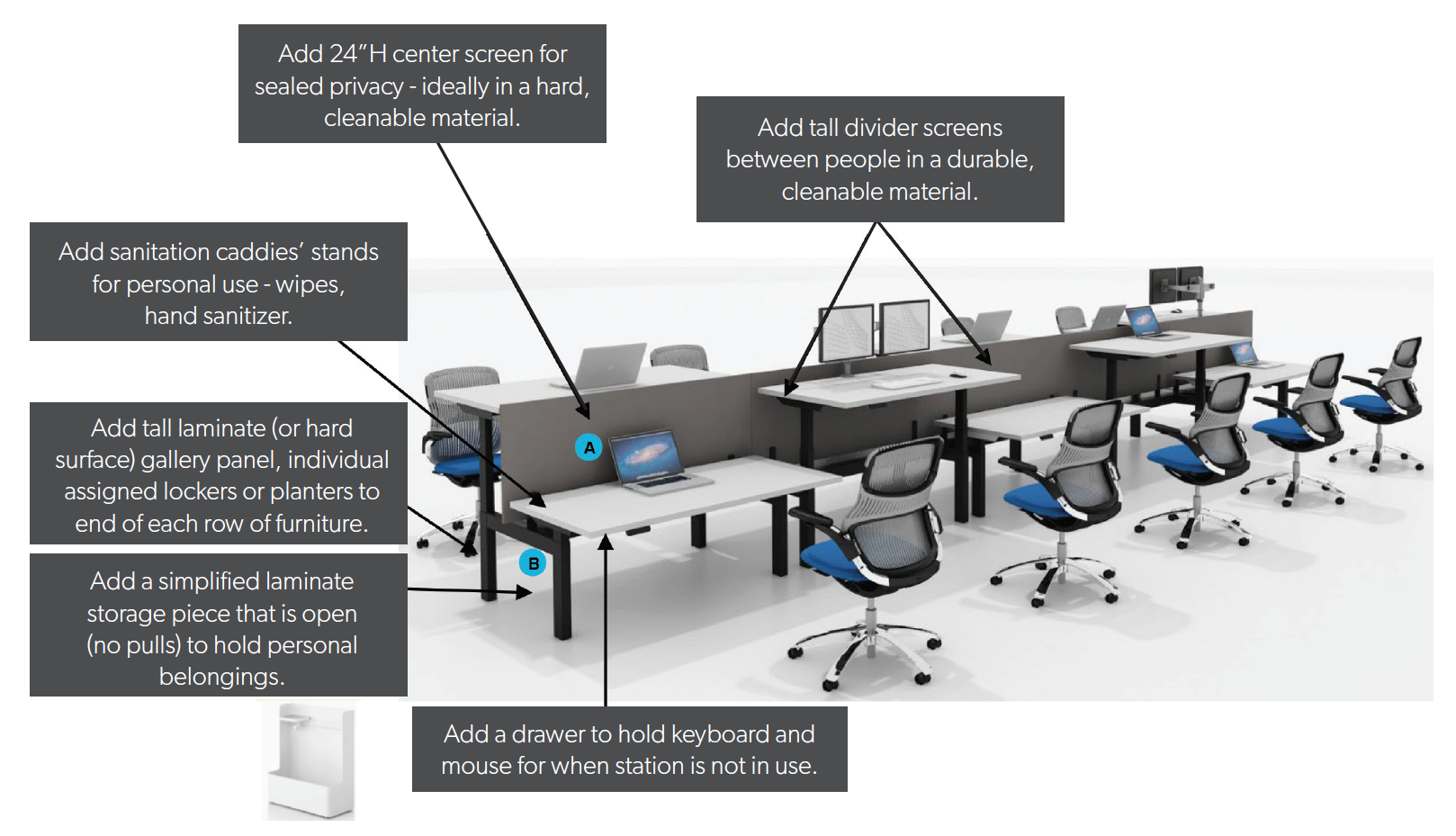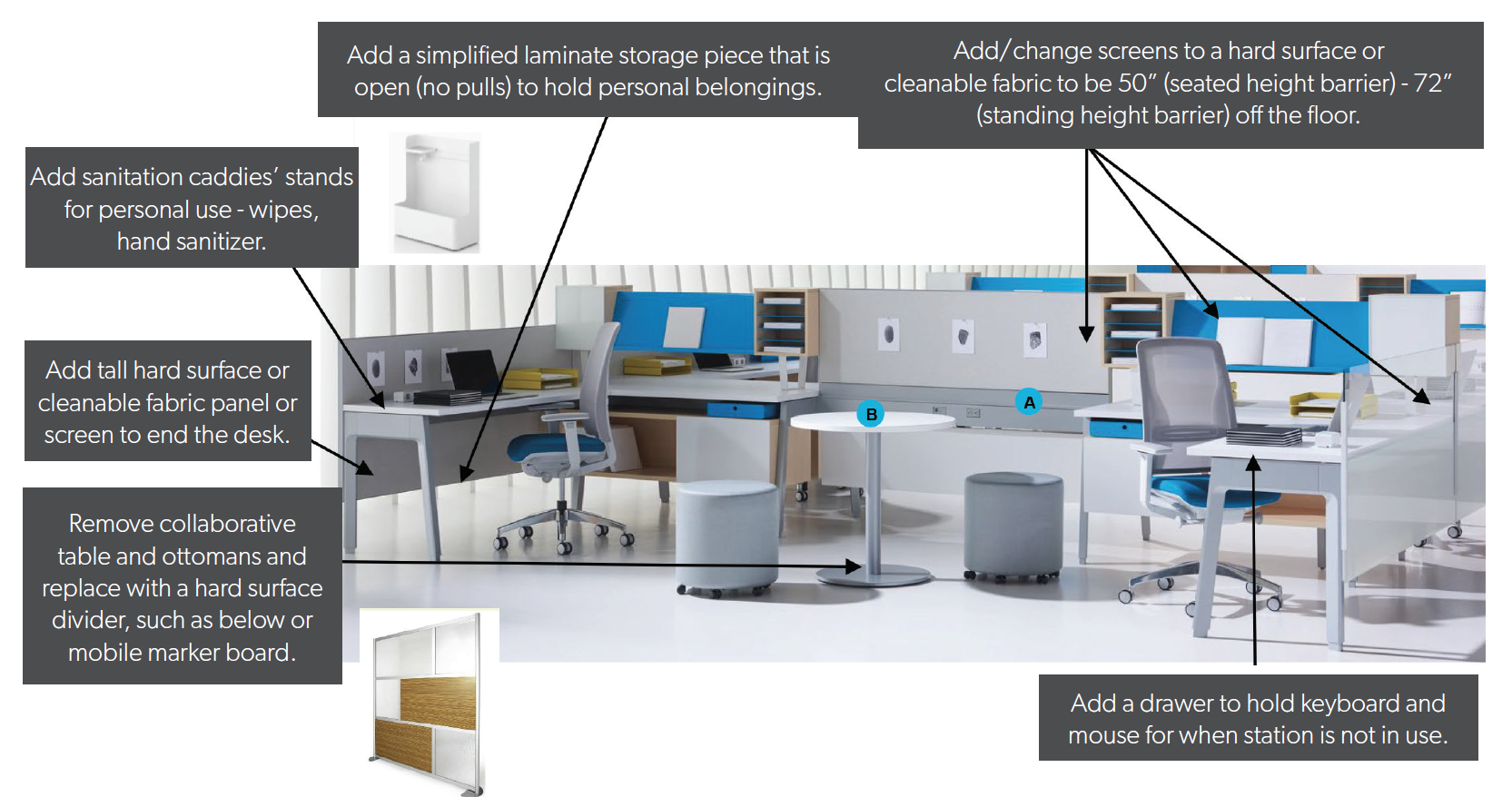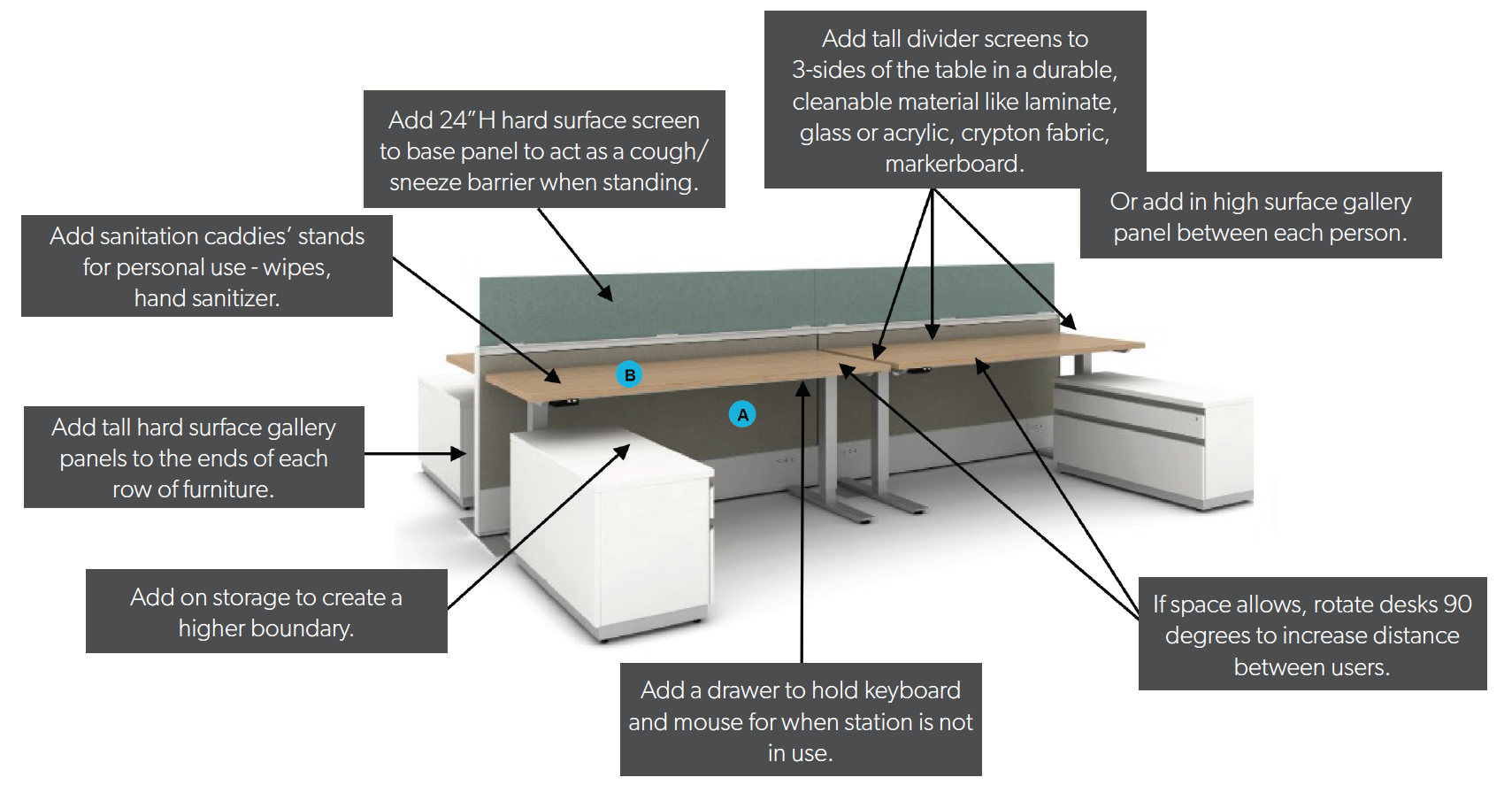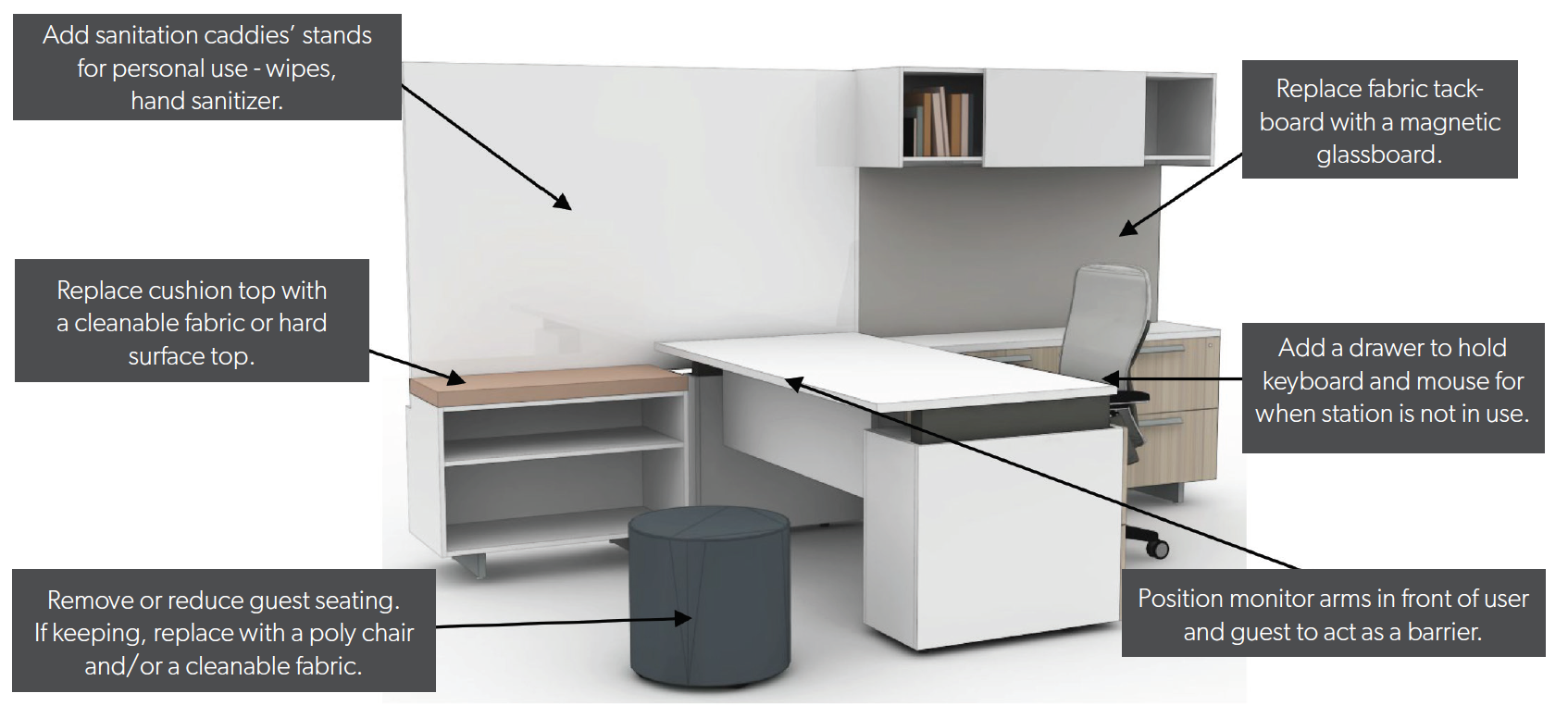 Add 24"H hard surfaced stacker on all panels or center beam and around 3-side of the adjustable or fixed table
Increase size of primary work-surface or rotate desks to create distance
Replace work-surfaces with non-porous material and seamless edges
Retrofit adjustable handset on height adjustable tables to hands-free
Replace soft seating collaborative areas with hard surface tables and chairs that can be cleaned easily or with antimicrobial, vinyl, crypton, copper infused textiles already in market
Add free-standing, hard surface space dividers in high density areas Add tall laminate gallery panels to workstations or benching stations
Add additional storage or divider on top of 21" or 29"H storage to create a higher barrier
Add a drawer for keyboard and mouse when station is not in use
Sanitation caddies and stands for wipes, hand-sanitizers in every work setting
Laminate open storage caddy for personal contents
Replacement arm caps on task and conferencing chairs which are easy to clean and antibacterial
Protective covers for task chair adjustment levers
NEW FURNITURE + MATERIALS
Healthcare materials and surfaces to be applied to office products
Quick ship easy to assemble home office packages
Addition of anti-bacterial agents to existing materials
Bleach cleanable products that meet the office design aesthetics
Soft seating that have a solid surface or poly arm cap options
LONG TERM
2022 and beyond
Task chairs with an anti-bacterial and self-sanitizing textiles and fewer adjustment mechanisms
More hands-fee adjustment mechanisms
Silver Ion, Nanotechnology integrated into high touch products to kill bacteria automatically
Reduction of seams and folds on products
ADDITIONAL PROTECTION WITH SNEEZE GUARDS
Provide your employees and customers with a protective barrier to help prevent the spread of viruses like COVID-19.
Designed to integrate into reception, open plan offices and point of sale areas. Made from clear acrylic, these screens are easy to wipe clean and sanitize to help maintain a healthy environment.
Loftwall Freestanding Sneeze Guards
0.25" thick screen
Multiple screens can be linked together
Can be anchored to surface or free standing
Aluminum frame made with 75% recycled content
Frame and panels can be recycled
Easy pass through windows
Variety of sizes and styles available
Starting at $249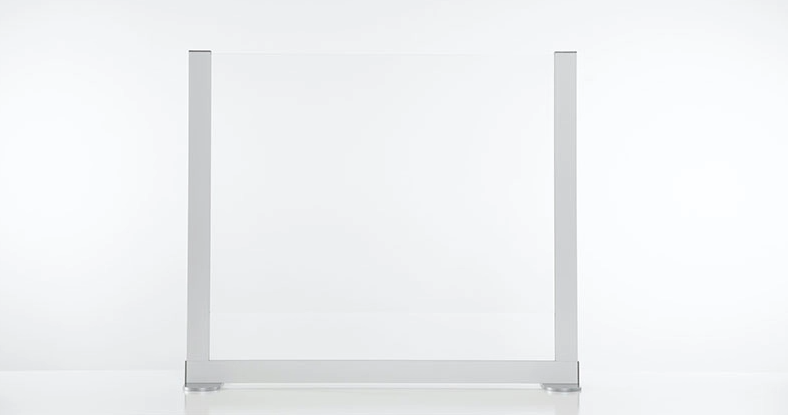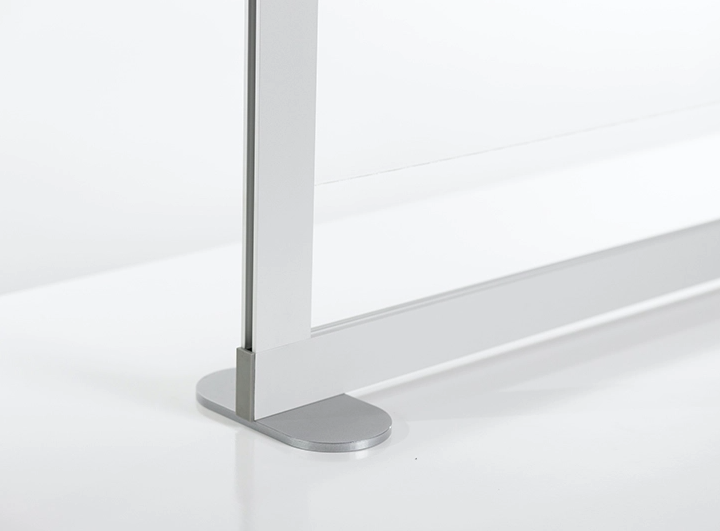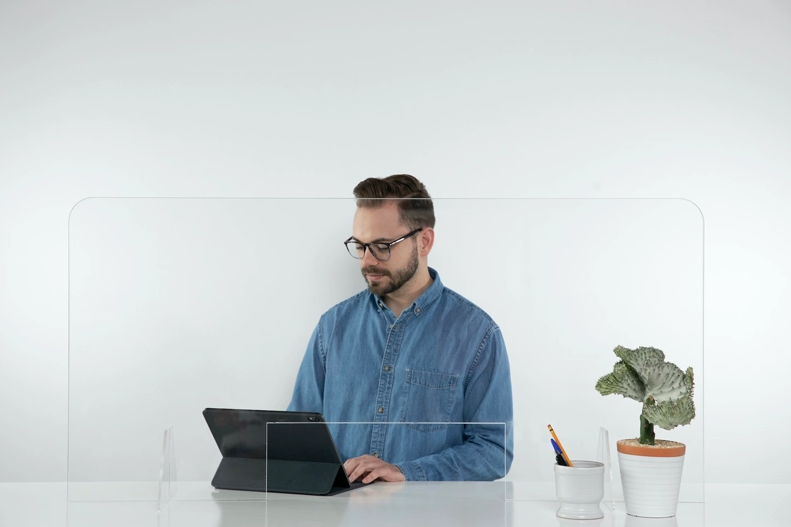 Deflecto Freestanding Sneeze Guards
5mm thick screen
Freestanding, easy to move and reposition in a variety of countertop settings
Easy pass through windows available
Variety of sizes available
Starting at $189.99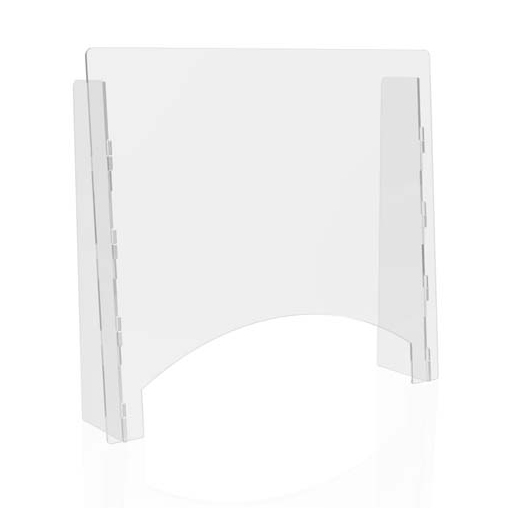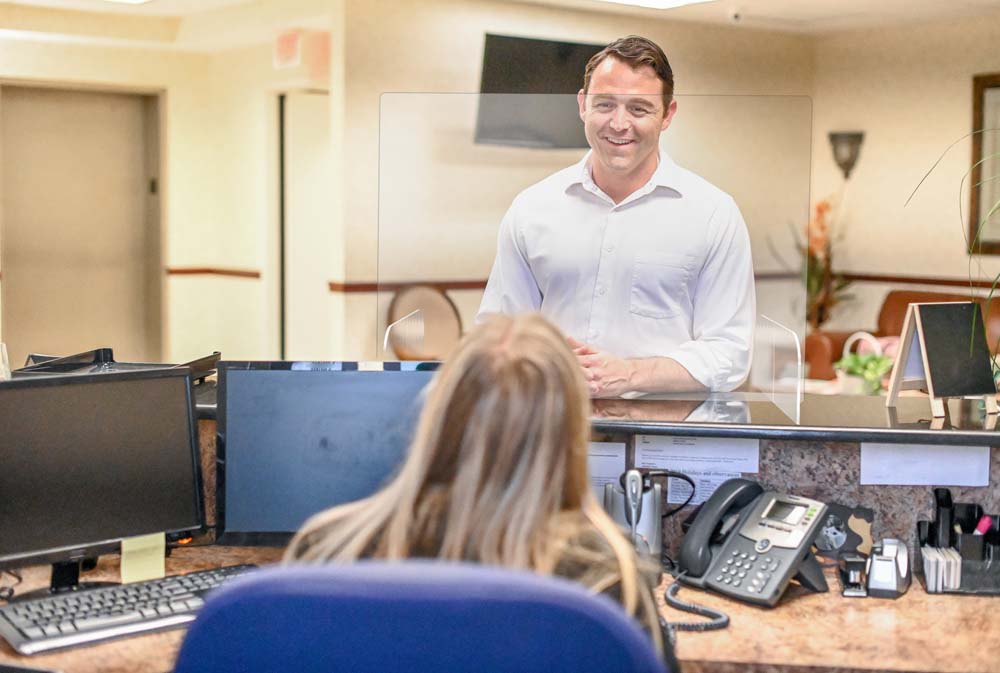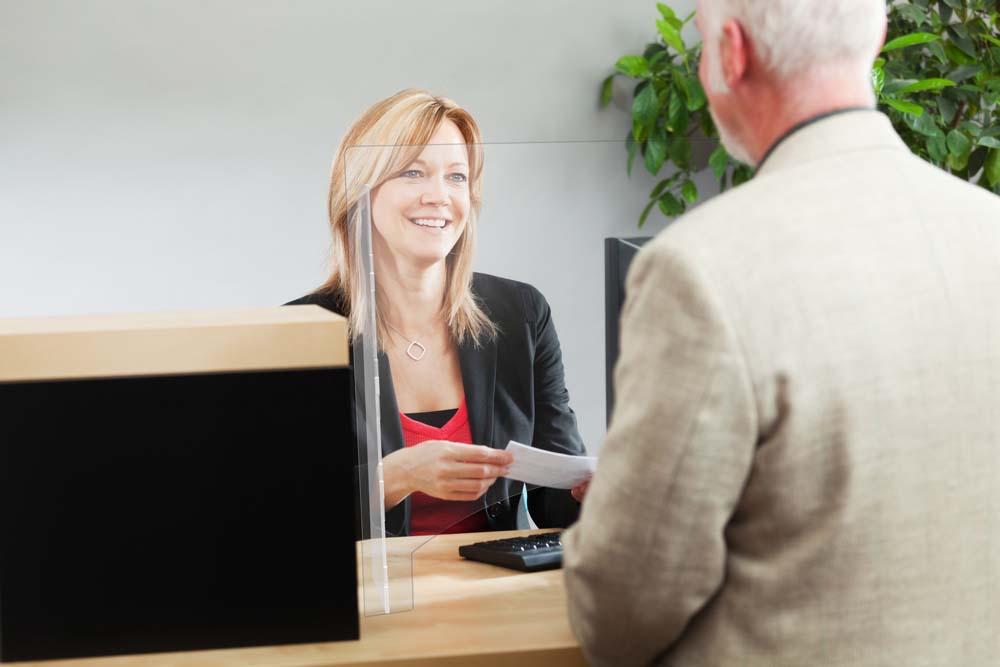 NSS Freestanding Sneeze Guards
Quick setup
5mm thick screen
Freestanding, easy to move and reposition in a variety of countertop settings
Easy pass through window
Ideal for interviews, personnel screening, bank tellers, retail cashiers and border patrol
30"H x 30"W x 9"D
$279.99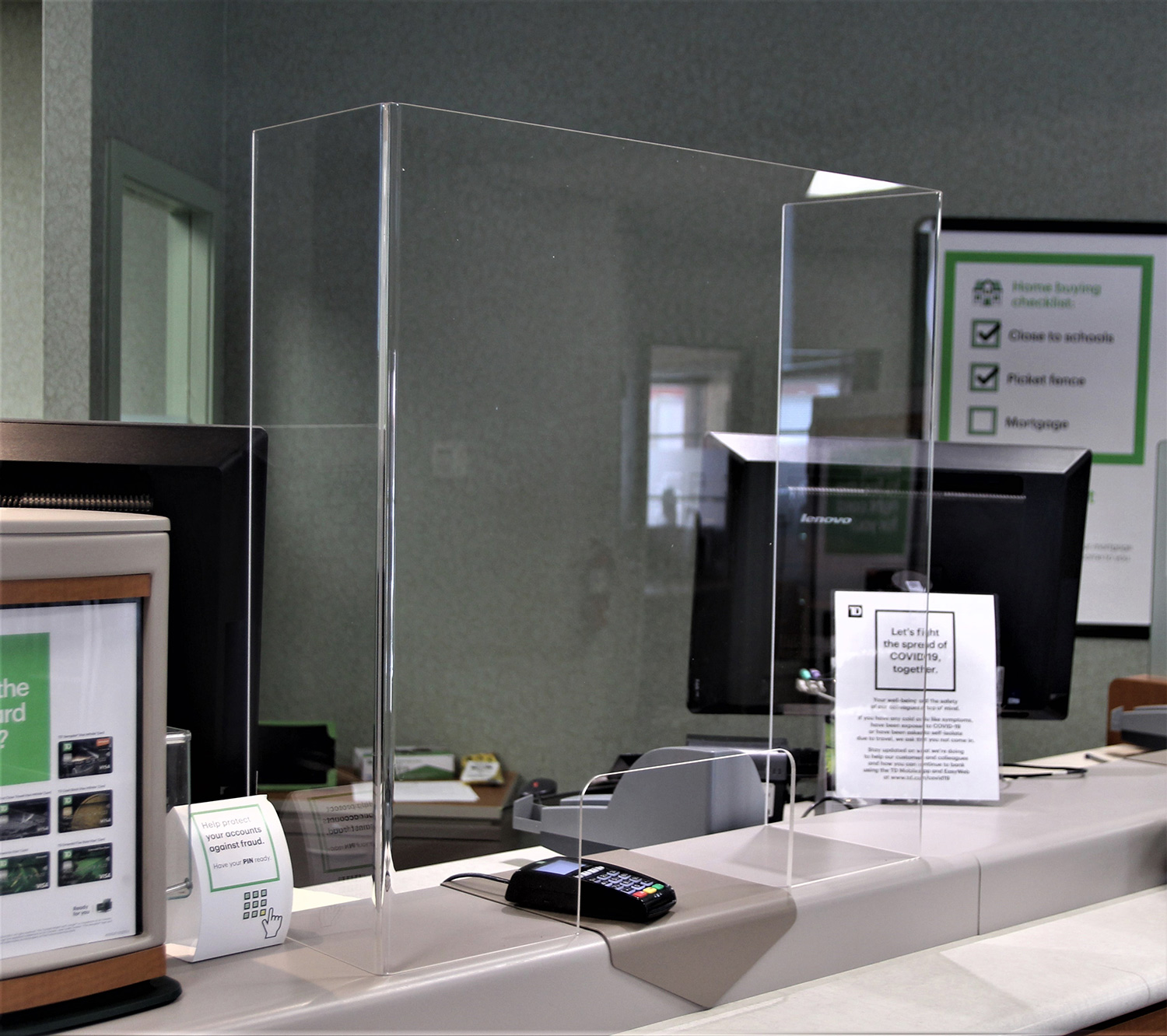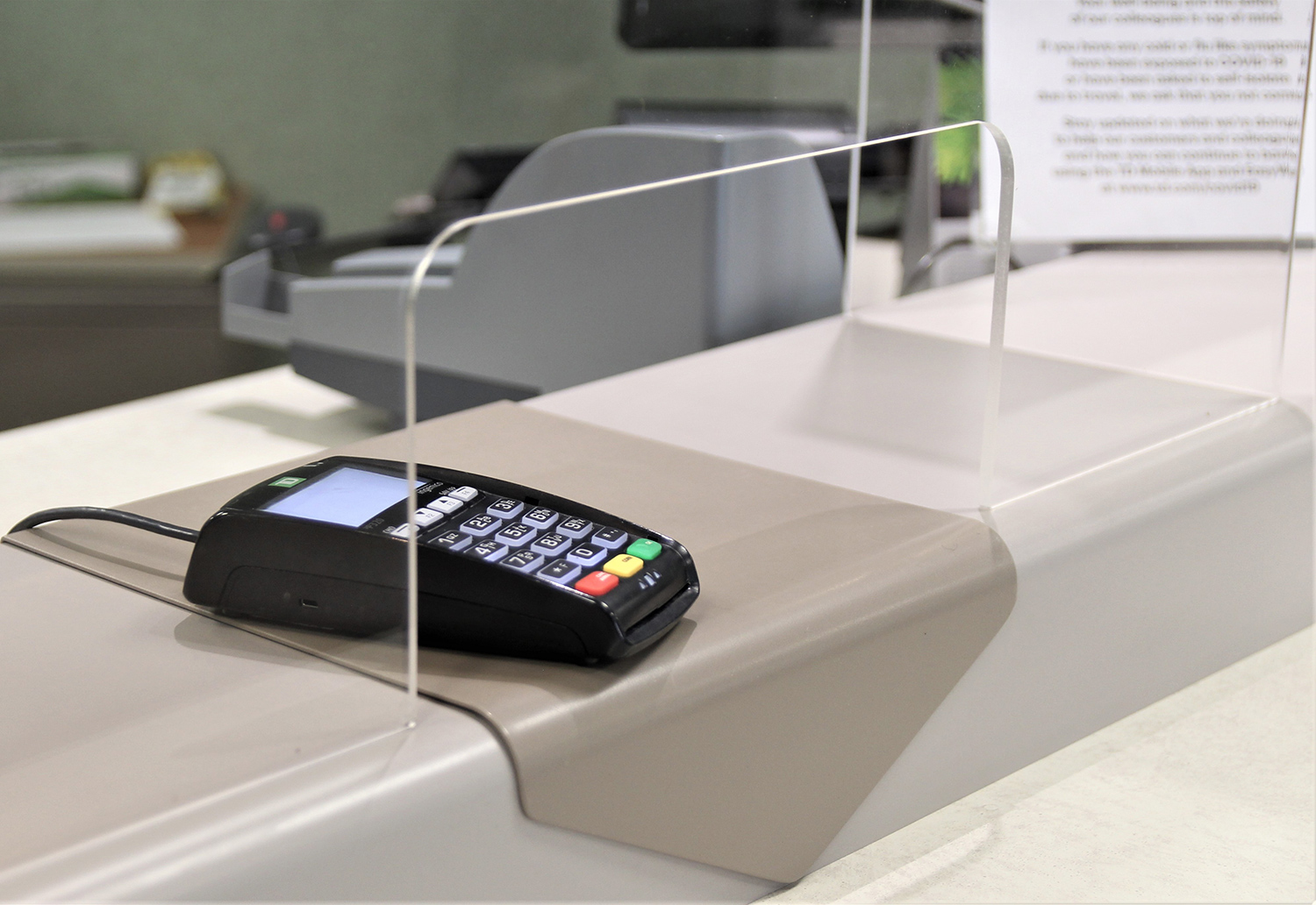 Global Contract Sneeze Guards
Quick setup
5mm thick screen
Aluminum extruded post and mounting bracket painted in Designer White
Elevated panel mount allows for document pass through
Several mounting options allow the screens to be easily secured and removed without damaging the existing furniture or used as a permanent fixture
Variety of sizes available
Starting at $299.99