Multinational hearing aid manufacturer, Unitron, needed more space for its head office and Canadian sales staff-changes that would impact more than 200 people, some who would move to a new building. Inspiring open concept designs and feature furniture were used strategically in both buildings for maximum impact, while existing furniture was reused in more traditional areas of the buildings.
New and repurposed furniture for a 28,000 sq ft renovation and 20,000 sq ft of new space, completed in 4 phases and affecting 200 employees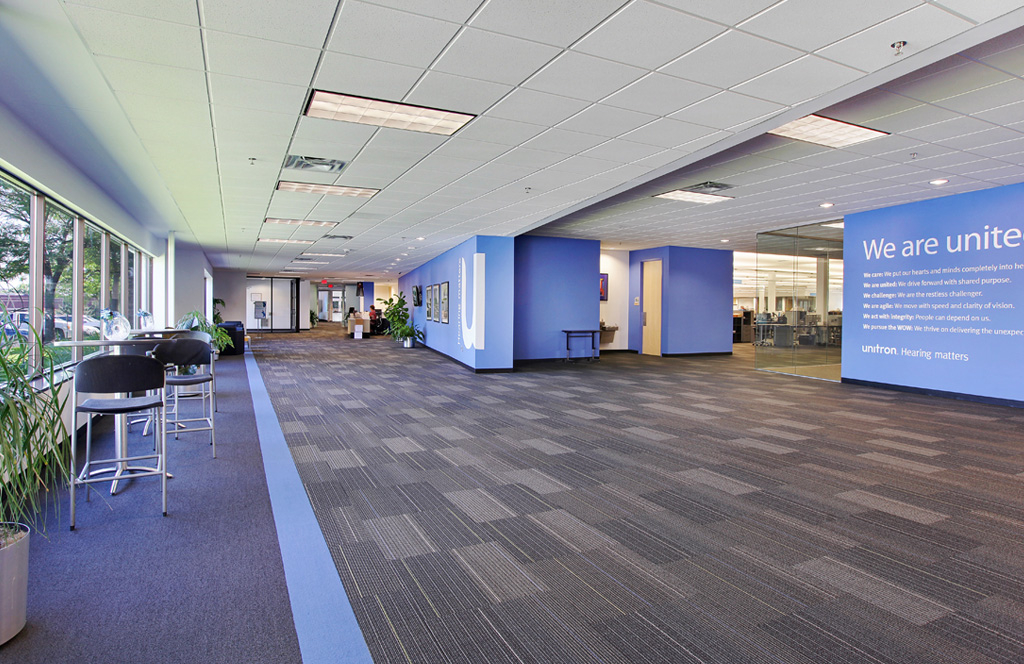 Unitron's priority was to create a warm, inviting collaborative space as economically as possible. Minimizing downtime during each of four phases of the project was a priority. So was reusing existing furniture. As was realizing the design vision.
The new furniture has a modern European aesthetic in keeping with Unitron's brand as a global innovator. Private offices, cubicles, work stations, meeting rooms, training rooms, lounge areas and a cafeteria were all part of the project scope. A total of 48,000 square feet of space needed to be furnished with new or repurposed furniture.
"I like knowing that what I select will help people function as effectively as possible. We're making an overall change to a more open and innovative and collaborative working space. It's no longer just desks and chairs. We're buying sofas and lounge chairs and live edge coffee tables. I wish there was room for a hammock."
- SUE DELOOZE, DIRECTOR HR, UNITRON CANADA
"Every square inch of the existing building, except for a couple of washrooms, has been renovated," says director of HR and project lead, Sue Delooze. "This is an R&D site. We're designing the products of the future. We had to keep the impact of interruptions to a minimum."
Architects designed the layouts. Beatties worked with the CAD drawings, assisted with product selection (we even took Sue on a showroom tour), helped coordinate the moves, ensured Unitron had all the fixtures required, submitted the orders and followed up if there were any issues. "Beatties even worked to get a custom piece made to meet our requirements," Sue says.
"I didn't sleep well through this," Sue laughs, "so I would email Beatties at all times of the day and night. And they replied."
"Thank goodness for Beatties. I don't worry about things, I just contact them. Beatties is the sixth or seventh Teknion dealer I've used and they're the best. Super organized. Very cooperative and helpful. I don't hesitate to ask them for anything."
- SUE DELOOZE, DIRECTOR HR, UNITRON CANADA
A project of this scale has many moving parts and diverse players. Beatties collaborated with designers, project managers, electricians and IT staff, ensuring everyone knew what was happening when. Careful planning, clear communication and fast response times were critical to project success. Timelines were tight, with every day that teams were displaced costing the company in productivity, so Beatties worked tirelessly to keep the project on or ahead of schedule.
Have a similar project and need some help?